In the past month, Ms. Moos and Mr. O'Brien, the Junior Architecture teachers, assigned their students a comic book project in the Building and Design class. Students were asked to use their creativity and drawing skills as well as concepts taught in class to design a comic book with a backstory. A few students in the junior class were interviewed about their thoughts and experience with the whole thing. Read below to see the interviews.
Here were the questions asked:
What was your process like?
What story were you hoping to convey with your art?
How do you think this project affected your knowledge about the design world?
Medium?- Title of comic, date created, materials used?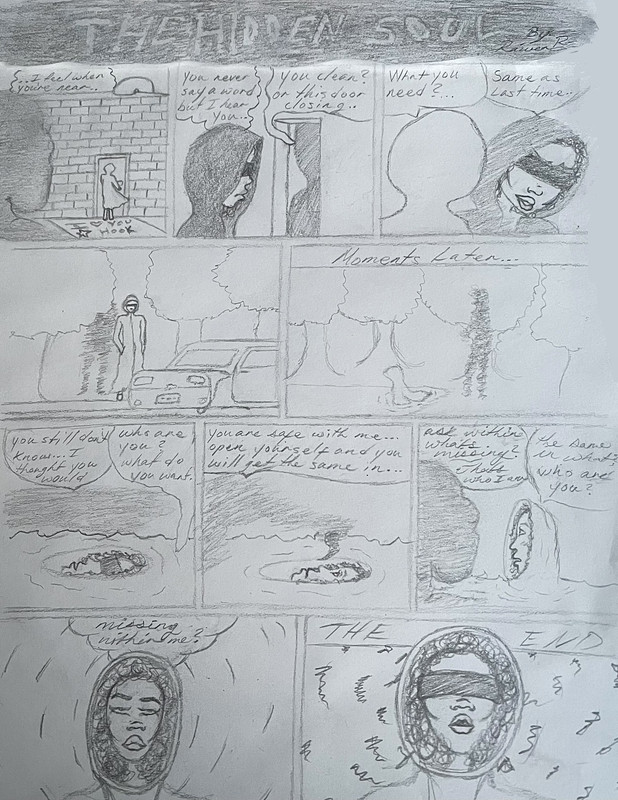 Raiven Rowl
My process during the development of my comic was very difficult because I knew what I wanted my drawings to look like but not the story. Once I started to actually sketch the drawings out, my story did come along as well.

The story that I was hoping to convey with my art was a girl who was trying to find what she felt was missing in her life which I called "The Hidden Soul" because she went through her day-to-day life feeling that something was close to her but not knowing who or what it is. 
I think this project affected my knowledge about the design world by not realizing the amount of creativity, time, and effort that comes behind things such as comic books.

Medium: The Hidden Soul, February 26, 2021, Pencil
Magaly Aspiroz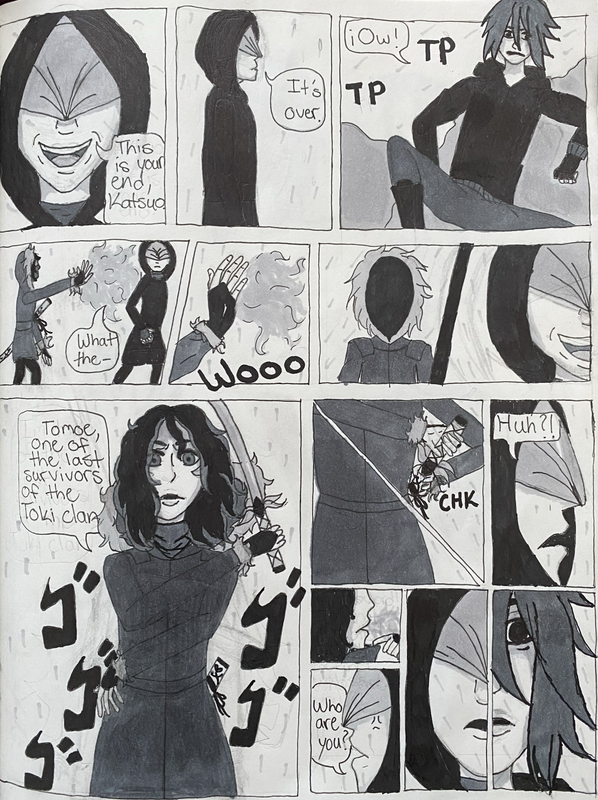 The process was a bit tiring to be honest because of the detail that I was trying to put in the drawings. Since I sketched a lot, it took time to outline everything and erase the markings.
The story I was hoping to make was a fictional one about a girl named Tomoe who saves a boy from a masked person; her goal is to avenge her clan. I used inspiration from different anime and manga so the comic is read from right to left, the reverse from English.
The project helped me understand that drawing a comic takes time and that designs are important to a story. Another thing that the project helped me understand is that designing characters also takes time since each has to look unique.
Medium: I drew the comic with a pencil, markers, and a pen. I tried to give it a manga look so I used black, and grey colors.
The title is "Here comes Tomoe." I finished the comic on March 3 and used a sketchbook, pencil, micron pen, markers, an eraser, and ruler as materials for the comic.
Kimberley Castro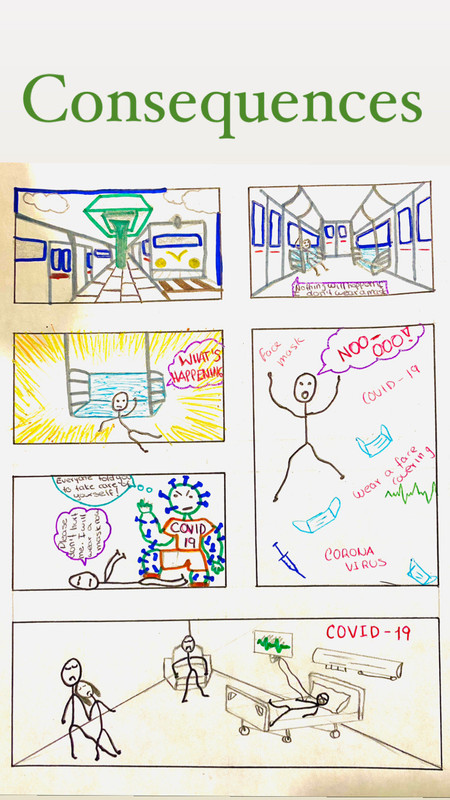 I spent a lot of time creating my comic, between the thought process, and the actual drafts. Since we are all going through hard times during this pandemic, I thought it would be a good idea to draw something that represented the aforementioned. With my comic I tried to show the "consequences" of not protecting yourself from this virus and how important it is to be safe.
I was hoping to make people aware of the impact this virus can have on us, how it affects us in our everyday lives, and how quickly our lives have changed. 
This project definitely affected my knowledge about the design world in a positive way. I now see everything as a form of art. Art can go from designing a simple drawing step-by-step to designing a house. I love how we have the liberty to do pretty much anything we want with our drawings/designs. 
The title of the comic is "Consequences" – Created March 2nd. Materials: Sharpie, Markers, pencil 
Raymundo Gomez
My process took a lot of time to make. When I was making my comic strip, I would at first sketch everything with pencil, and then shade some parts to show color. When I am finished, I would use a marker to color the frame box, and parts of the characters as well. The whole process took me some hours to make, but it was worth it.
The type of story that I was hoping to convey in my art was to show that two friends were debating if ice skating was easy or not. The main character named Diego believed ice skating was easy and wanted to prove his friend Alex wrong. Alex believed that ice skating is hard and that Diego won't master it in under a week. After that, Diego would practice ice skating for many hours so that he could prove his friend wrong. At the end, Diego was able to ice skate very well since he was practicing it for a long time and didn't give up after many failures. Diego proved Alex wrong.
This project doesn't really affect my knowledge about the design of the world. Instead it made me admire more of how people do their designs, because if you want to create something great, then you must be willing to work for many hours, and to give it your best. I also noticed that making comics/manga is very time consuming because each panel of the comic would take a long time to make if you want to have good details.
The materials that I used for my comic are paper, pencil, and a marker. The title that I put for my comic is "Diego Adventure" because Diego would be doing new things throughout his lifetime. My final comic was created on March 2.
To see more comic books visit the Whsad Art Gallery