This article is an overview of Chemistry class. Below, Chemistry teacher, Ms. Ostashevsky talks about what the class will cover and what to expect.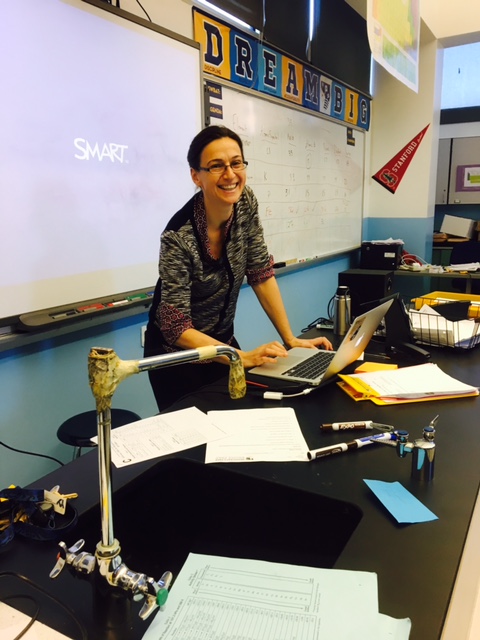 Who are you?

I am a chemistry teacher. I've been teaching for 5 years. Before coming to WHSAD the previous fall, I spent 3 years at a charter school in the South Bronx. I like teaching in a Brooklyn public school because I am also a product of one, having grown up in the borough. My class covers introductory topics in Chemistry. Being familiar with the periodic table of elements, common compounds, and how reactions happen can help you understand what happens below the surface in much of our world. Chemistry is called the "central science." It'll help you understand subjects like biology, environmental science, psychology & physics more deeply.

What's the Curriculum like? (Pre-Quarantine and Post-Quarantine).
The curriculum includes topics that are tested on the Regents Exam. For example, do you know why you can't walk through a closed door but can walk through a cloud? Do you know why water can't take out the oil stain on your favorite shirt? Do you know why a pencil marks paper? These are the types of questions that get answered — and the reasons behind them explored — in chemistry class. The curriculum moved faster before Covid. We were on a schedule to cover all the topics that are on the Regents. In the past 14 months, since we've done online and/or hybrid instruction, the pace has slowed. I am nevertheless still delving into important topics which will give students an enduring appreciation that the world they experience is governed by submicroscopic processes.

What are students doing online and how does it differ from when we were in person?

The challenge of teaching chemistry & math online is that students cannot solve math-based science problems or draw images. I should add that it can't be done as easily as one can with paper & pencil. It is still possible to draw and show your steps using online tools, but it's not as quick nor as easy to show. Teachers and students are doing the best, but these functional limitations are real. Another difference is that I have less ability to help students. In a classroom, I can circulate to monitor student work and offer real-time feedback. Students who struggle — they may be confused by a topic or unclear as to how to carry out the assignment — tend to be shy and keep mum. This makes it hard for the teacher on the other side of the Google video call to identify those students and reach them. I miss having students work together. Currently, my second-period class has students who are friendly among themselves. Watching them collaborate on classwork reminds me of how much remote students are losing. Teachers are boring to students but their classmates are fascinating. It's so much better to discuss a problem with a classmate than with a teacher. When a teacher explains something, students feel like Lord Byron, who famously exclaimed, "I wish he'd explain the explanation!" But when a classmate explains the work, they get it. I miss the peer learning part of in-person teaching.

What is the level of difficulty in the class?

A teacher is a wrong person to ask that. Teachers have been studying this topic for a long time so of course, it's simple to them. You should ask a student. My sense is that if a student pays attention, takes and later reviews the notes, asks the teacher follow-up questions, they do well. If they don't do those four things, the class gets tougher.

What tests do students have to take at the end of the school year?

This is a Regents level course. The Regents class should give you the basic concepts you need to get under your belt in order to tackle General Chemistry in college. You'll still have to study 🙂
Examples of work done in class:
In the morning, on Peardeck, students are given fun art subjects they could draw as a way to ease into class.