On Friday, June 5th, Mahalia Saint-Eloi and Deselle Thompson presented their proposed redesigns for Lake Como to the town's committee.
After Hurricane Sandy, the lake became toxic, and the wildlife degraded. That's why revitalizing the lakefront by adding new plants and creating areas where wildlife can flourish as well as creating a fun but also sustainable environment is important.
The title of the project is Lake Como's Fun & Wildlife Lakefront Park Design, and the alliance with WHSAD was formed in order to achieve the environmental, social, and economical improvement of the lakefront and in the town itself.
As a result of being located right next to the Jersey shore, Lake Como is often overlooked. That's why we want to make Lake Como into a hotspot attraction, so that the residents or tourists of Lake Como or in New Jersey itself can see what they're are missing.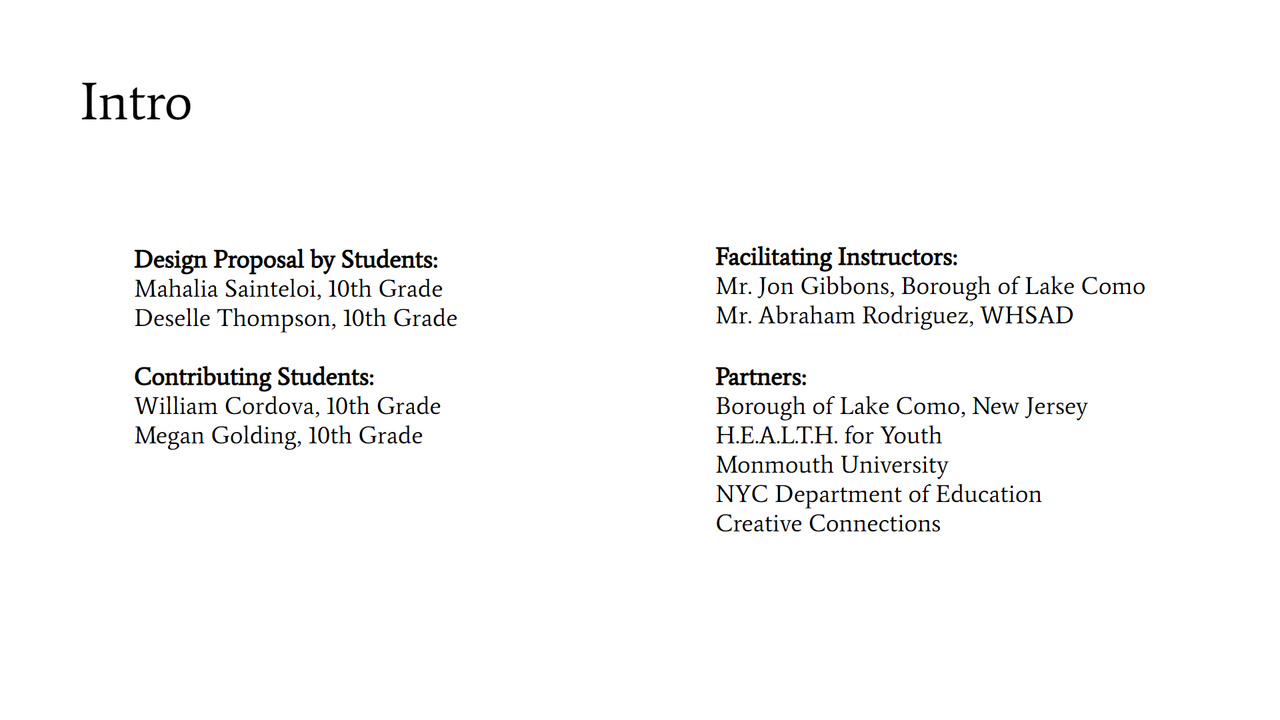 Below I interviewed Jon Gibbons-the facilitator for Lake Como, Mr. Rodriguez-the 9th grade Architecture teacher who was the primary lead for the project and included accounts from Deselle and me based on what we've learned from the project.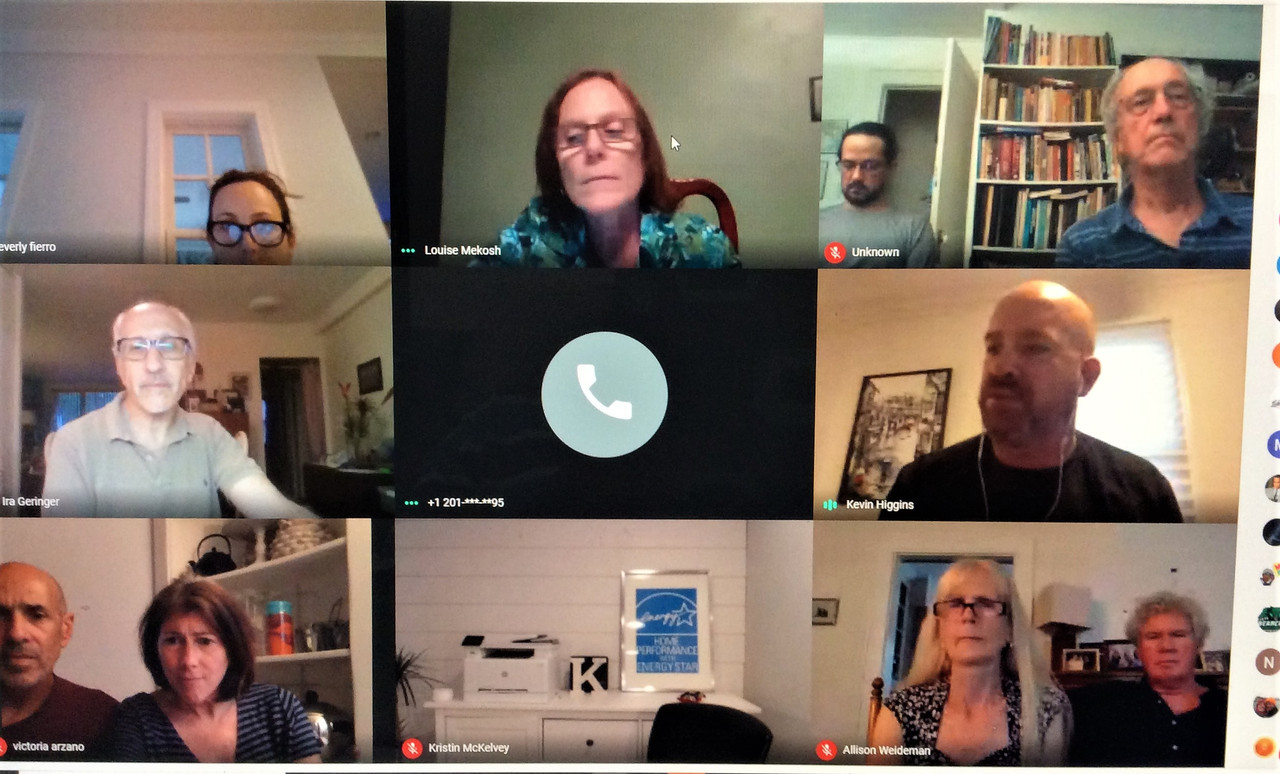 Jon Gibbons
In one word, how would you describe Friday's presentation?
"Stunning! Everyone in attendance was bowled over by the extent of the research and the quality of the design, especially as it was carried out by 10 [grade] high school students. Nobody expected this. People were also impressed with the wide educational experiences developed by Mr. Rodriguez during the project."
What is the whole purpose of this project?
"Our first purpose was to start creating the first one of the five planned environmental destinations in the Environmental Vision for our community – that is, moving the Borough from a 'little-noticed pass-through' to a 'Distinctive Destination.' Our second purpose was to take advantage of the arguably unique education/government partnership to maximize the potential educational experience for as many WHSAD students as possible."
What are your hopes for the future?
"With a highly successful initial project under our belts, we would like to continue and expand this cooperative program, for everyone's benefit. We're already looking at possible projects for the students to tackle in the coming school year."
Why was WHSAD chosen to work on this project?
"Most importantly, it was the school's specialization in the subjects of Architecture & Design, which is an area which can provide great value to the Borough of Lake Como."
Describe the steps involved starting from project initiation to project completion.
"The project began rather unconventionally, with Heather Butts and Principal Cornell cooking up the idea; then-Mayor Higgins liking it and giving the go-ahead. This resulted in an information and planning meeting on MLK Day. It was attended by WHSAD teachers and students, Lake Como residents and organizations, and other folks with an interest in the Lake, such as Syd Whalley, Councilor from Spring Lake, an adjoining municipality.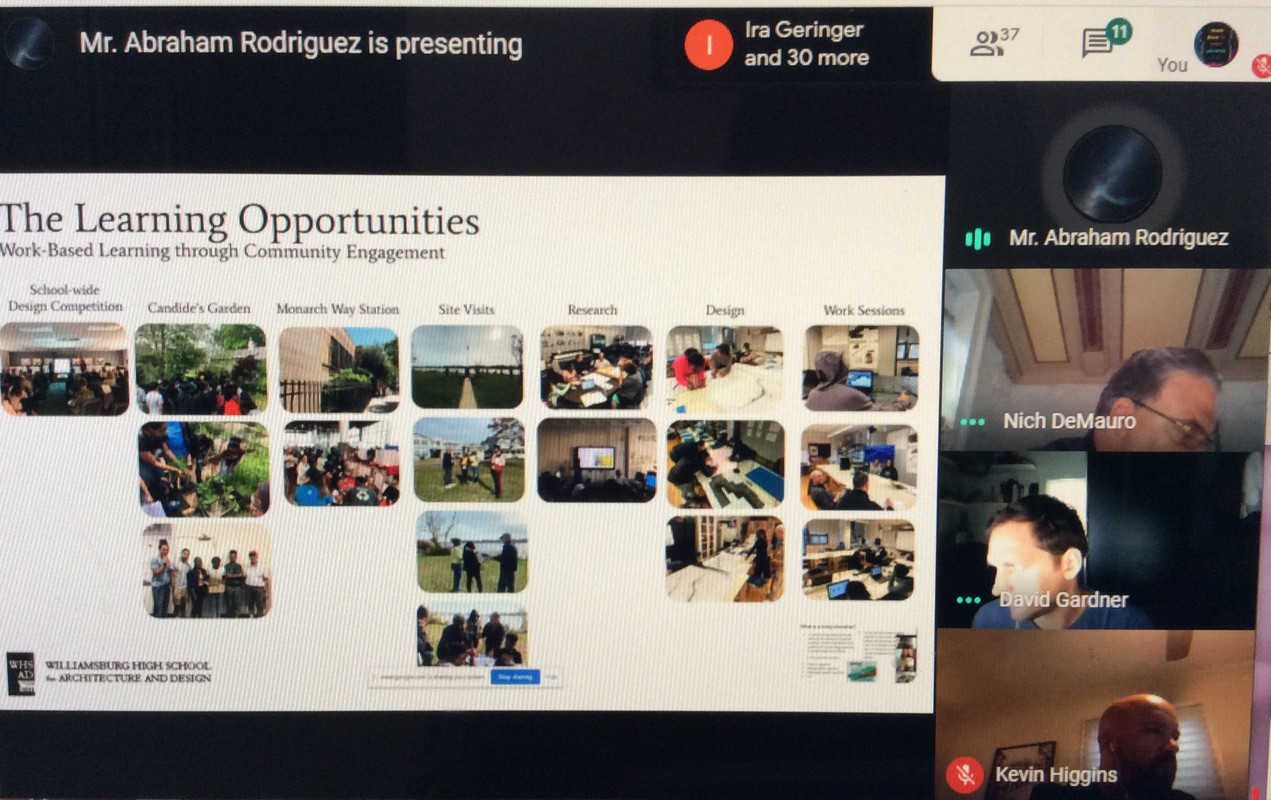 The initial project was to reimagine our ¼ mile-long Lake Front as a Fun and Wildlife Park, which was the Mayor's first priority. WHSAD held a school-wide design competition, from which a winner was selected from five excellent entries. The next stage was to bring that project forward to a final design, informed by the other projects as well as feedback collected from the meeting. However, the challenge was that creators of the winning design were seniors, who immediately graduated!
The new team of 10th graders had to start from scratch, as well as to build upon the established winning design. From there they were able to follow the conventional architectural design stages of research, analysis, design, and presentation. On June 5th they presented, and everyone in the ZOOM audience of 35-40 was stunned by the extent of the research and the quality of the design! By "completion" I think we're talking about the end of a first a stage of a multi-year implementation of the Park, with further exciting design work in various areas, such as the pedestrian foot-bridge, dog park, and playground with equipment made from re-purposed Bradford Pear trees!"
Abraham Rodriguez-Freshman Architecture and Design Teacher
What do you think the next steps are following the presentation Friday?
"Excited to see how much of the design proposal will be implemented at the lakefront park. One important step for the team is to prepare a more detailed site plan showing furniture, foliage, lighting, utilities, annotation, and measurements. I believe this could allow the students to really grasp an understanding of developing a professional set of landscape architecture drawings."
How did this project come to be?
"The partnership with the Borough of Lake Como was initiated by Ms. Heather Butts from H.E.A.L.T.H for Youths, Inc. as a push to engage WHSAD students directly with the community and real-world projects."

How did you enlist students onto this "team"?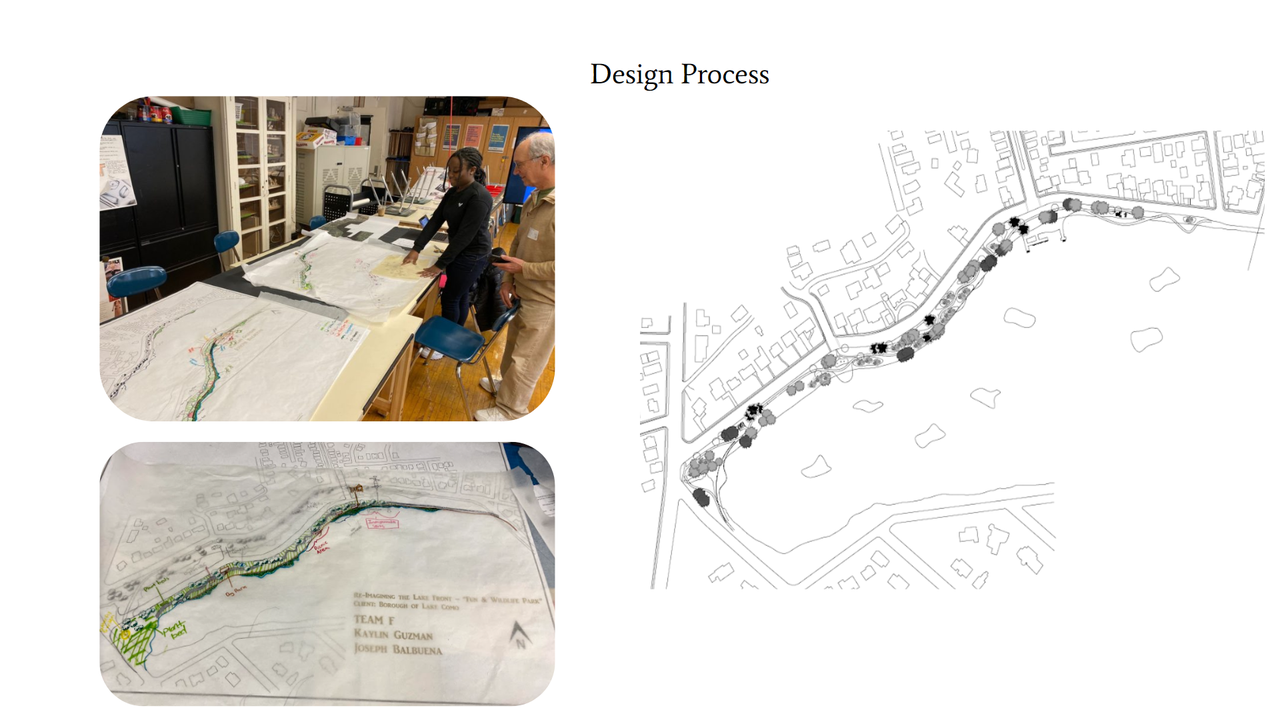 Because these types of projects are volunteer based, the first stage of the project is open to all students to contribute. Then based on their dedication and commitment, we then assign specific roles in areas such as design, research, visualization, communication etc.
In what ways did the project benefit those who worked on it? Or the Lake Como community?
"The value of engaging students with community stakeholders and public-private partners accelerates career readiness in many ways. Students develop research skills in environmental sciences and sustainability through case studies involving coastal regeneration and landscape design as well as the interaction with community stakeholders to boost communication and leadership skills. Ultimately, the students generate a final site plan drawing through CAD along with a presentation of best practices for lakefront park designs."
Mahalia Saint Eloi-WHSAD Sophomore
Tell me about the experiences you've had working on the Lake Como project:
Why do you believe this project is important?
"I love being a part of this project. This project is going to benefit the Lake Como so much that it'll be a whole revitalized community.
I think that teamwork is extremely vital when it comes to projects big and small or in a workspace environment. It's important to encourage talented people, especially students, to work together and find a way to apply their complementary talents, to develop solutions to come up with solutions to major issues as well as come up with innovative and creative ideas. and that's what we did. Deselle, Megan, William, and I worked hard to develop this project; we worked as a team and I think that's why it worked.
Improving this lakefront by designing the landscape will give people the opportunity to explore the lake's natural resources and see the potential the great lake and community has to offer. The Lake Como project in a way highlights what I think WHSAD is all about: taking young minds and putting their creative minds to work. From what I've seen and learned about Lake Como and its residents is that they're full of life, they thrive for the betterment of the community, and this is what this project is all about.
After presenting this project, which was approved by the town's committee, I felt we all could breathe. We've been working on this project for over a year now and to hear that the committee actually liked our ideas and how we presented, it really showed how we come so far. I hope to be part of similar projects in the future."
Deselle Thompson-WHSAD Sophomore
Tell me about the experiences you've had working on the Lake Como project:
Why do you believe this project is important?
"The Lake Como Project was a great learning experience for me. I learned how to design a plan that benefits both people and the environment, how to use sustainable alternatives and ways to repurpose waste from a site (the Bradford Pear trees), and even how to multitask and manage my time so I could still do other activities outside of the project.
I believe the most important aspect of this project was how centered it was around the community and the environment. We really tried to design something that the residents could be proud of and enjoy but also served as something the lake environment, whether that be the lake water, pollinator plant species or insects could thrive off of. I feel that the future of architecture is moving in a more sustainable direction and this project is a great example of that. With climate change becoming more and more imminent, we should be trying more and more to combat it, especially in traditionally industrial fields like architecture.
We need to find ways to balance what we want, design-wise, and what nature needs to avail. Even outside of the climate change point of view, our environments should be protected out of simple matters of respect for where we live. I'm really glad to have gotten the opportunity to work with the residents of Lake Como. Being able to work with a community outside of my own gave me a new perspective in terms of what we can do in our own community to help our environment."
Our Design Plan